MS DUI Laws: What is Aggravated DUI in Mississippi?
By: Vic Carmody, Mississippi's ONLY Board-Certified DUI Attorney

Aggravated DUI is a concept promulgated by NHTSA (the National Highway Traffic Safety Administration) after the agency was formed in 1970. The federal government used the "power of the purse" to push all states to enact laws that singled out egregious fact patterns for those DUI offenders with high BAC levels, injuries, or death in DUI accident cases. These laws have now been in effect for so long that some handwritten prosecutorial notes abbreviate these enhanced crime cases as "AGG DUI."
Each state in the United States then had to pass new laws defining their state's DUI meaning to "comply" with NHTSA's directives or have their federal highway funds negatively impacted. In Mississippi, the Magnolia State translated this request into exacting disqualification "penalties," limiting expungment of DUI convictions to BACs of less than 0.15% of breath or blood alcohol test results.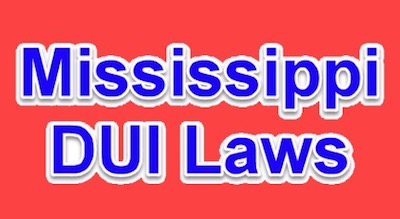 Plus, the federal mandate called for lengthy license suspension and alcohol and drug safety courses. In MS, this exists in our Mississippi Alcohol Safety Education Program, which is known as MASEP. This article delves into what is considered an aggravated DUI in Mississippi.
Later similar federal mandates have pushed the states to implement mandatory use of an IID (ignition interlock device) for certain risky offenders or those being allowed restricted driving privileges. However, the aggravated driving under the influence laws in MS are very complex in terms of boosting punishment for severe DUI impact cases. Locating and hiring the very best DUI attorneys near me is your solution to fighting such charges.
Multiple Situations Can Trigger an Additional Aggravated DUI Charge
Plus, child endangerment provisions create non-merger rules and fixed, mandatory jail time for certain offenders of this separate DUI crime. So, a driver age 21 or over who has any passenger child under the age of 16 is classified as an aggravated classification under DUI alcohol or drugs convictions.
When is an aggravated DUI a felony? As with other MS DUI laws, prior DUI convictions pose a great threat. On a "normal" 1st offense or second offender, the crime is a misdemeanor DUI.
But, for a third DUI offense, this now triggers felony DUI punishment. Plus, with multiple child endangerment charges or multiple victims suffering a fatality or disfiguring injury in a DUI accident, these facts could possibly be a felony for even a first offender DUI.
The offense of aggravated DUI refers to any DUI offense categorized as such by our Mississippi lawmakers. Under current laws, expunction or nonadjudication on a first offense DUI is not allowed, when the reading is a high BAC. So, certain provisions of the laws on aggravated DUI in MS block the use of these attractive options, and may leave such DUI 1st offenders with no option except trial of the case, when not eligible for nonadjudication or getting a DUI first offense expunged after 5 years.
Other aggravated DUI penalties Mississippi. Plus, where the drunken driving crime involved in a crash that causes mutilation, disfigurement, death, to another, each affected victim's case creates a separate felony prosecution.
In aggravated drunk driving cases, the court can then enter an aggravated DUI sentence (for each victim), and give a 5 to 25 year prison term, to be served with consecutively (end-to-end) or concurrently (all at the same time). In a recent appeal, the judge sentenced the defendant to 25 years with the first 21 in state prison. Pryor v. State, 265 So.3d 1233 (2018).
Statutory Language for Aggravated DUI in the Magnolia State
This excerpt from Mississippi's DUI statute will help you see how the Mississippi Legislature has ramped up DUI penalties in accordance with NHTSA mandates. The MISSISSIPPI DUI FULL STATUTE can be found here.
Aggravated DUI.

Every person who operates any motor vehicle in violation of the provisions of subsection (1) of this section and who in a negligent manner causes the death of another or mutilates, disfigures, permanently disables or destroys the tongue, eye, lip, nose or any other limb, organ or member of another shall, upon conviction, be guilty of a separate felony for each victim who suffers death, mutilation, disfigurement or other injury and shall be committed to the custody of the State Department of Corrections for a period of time of not less than five (5) years and not to exceed twenty-five (25) years for each death, mutilation, disfigurement or other injury, and the imprisonment for the second or each subsequent conviction, in the discretion of the court, shall commence either at the termination of the imprisonment for the preceding conviction or run concurrently with the preceding conviction. Any person charged with causing the death of another as described in this subsection shall be required to post bail before being released after arrest.
A holder of a commercial driver's license who is convicted of operating a commercial motor vehicle with an alcohol concentration of eight one-hundreths percent (.08%) or more shall be guilty of a felony and shall be committed to the custody of the Department of Corrections for not less than two (2) years and not more than ten (10) years.
The court shall order an ignition-interlock restriction on the offender's privilege to drive as a condition of probation or post-release supervision not to exceed five (5) years unless a longer restriction is required under other law. The ignition-interlock restriction shall not be applied to commercial license privileges until the driver serves the full disqualification period required by Section 63-1-216.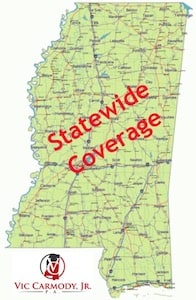 Call Today for Our Award-Winning DUI Legal Team and Statewide Coverage in Mississippi
With our 70 plus collective years of DUI defense, and being the co-authors of Mississippi's leading book on defending DUI cases, why look any further for lawyers near me? Our commitment to travel the State of Mississippi is your gain.
Author Victor Carmody, Kevin Stewart and Lance Mixon are here to serve you. All have received Super Lawyers recognition. For your FREE lawyer consultation, contact us at 601-948-4444.