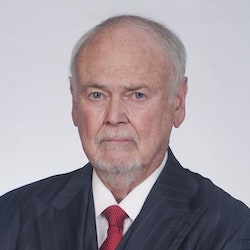 Vic Carmody, Jr.
Victor Carmody was employed by the Jackson Police Department as a police lieutenant from 1973-1980. With attorney Vic Carmody you get the best defense from knowing both sides of Mississippi driving under the influence (MS DUI) law.
Vic Carmody is an original Founding Regent and served as Dean of the National College for DUI Defense 2001-2002. He currently serves as a Fellow of the college and is active as an instructor during the summer trial college at Harvard Law School.
Vic Carmody is the only attorney in the state who is board certified by the National College of DUI Defense. He is also the only attorney in the state who owns the Intoxilyzer® 8000 machine and possesses a DOT permit to operate the Intoxilyzer® 8000.
He is the author of Understanding DUI Scientific Evidence, 1st and 2nd editions, Mississippi DUI: Law & Practice, and the Mississippi Criminal Trial Practice Forms manual, part of Thomson West's "Mississippi Practice Series." Vic is the attorney who wrote the books on DUI defense in Mississippi!
Vic Carmody has handled and tried DUI cases in 23 States and has presented DUI seminars in 15 states and 4 foreign countries. Mr. Carmody is considered by many as the best DUI attorney in the state. He was recently selected as one of the Top 100 Trial Lawyers in Mississippi by The American Trial Lawyers Association.
Vic currently serves as DUI chairman for continuing education seminars for the University of Mississippi.
He is AV Preeminent rated by Martindale-Hubbell, and he has been selected as a Super Lawyer in DUI and criminal defense by the prestigious Super Lawyers organization for over a decade. Vic is admitted to practice in all state courts in Mississippi, the United States District Courts for the Northern and Southern Districts of Missisisppi, and the Supreme Court of the United States.
Come see us in Flowood, at 781 Liberty Road, across from the Atmos Energy building.
When you are ready to attack this legal nightmare, dial us at 1-800-360-3847, to speak to our three Super Lawyers and Mississippi law book co-authors. The lawyer consultation is FREE. Call today to law office near me to shift this burden off your shoulders and onto ours.

Recommendations
Refer to Anyone
Will refer Vic to anyone that faces a similar situation.
Sincerely
Let me take this opportunity to thank you again for all you have done to help me. You could not have been better to work with. You are a delightful person and a great asset.
Highest Standards
I retained Mr. Carmody to represent my son in a DUI case and he did an outstanding job. As a retired circuit judge in the State of Florida, with 24 years on the bench, I am quite familar with trial lawyers and I can say without qualification or hesitation that Mr. Carmody consistantly demonstrate...
Patient and Understanding
Attorney Carmody, First and foremost I feel I must thank you for your patience and understanding… You truly are a man of rare integrity and I thank you so much for working with me on this case. My family and I both thank you.
Extremely Satisfied
A friend of the family referred me to Vic Carmody. I called the morning after the arrest and was seen within a few hours. I am extremely satisfied with my representation. This was an extremely difficult time in my life. There were definitely times when I questioned the amount of money I spe...
Top Notch
Absolutely Top Notch! I am still in shock that he managed to get everything dismissed. I can finally get some sleep!!
Great Job
Mr. Carmody did a great job and I will recommend him to anybody.
Very Satisfied
I am very satisfied with Mr. Carmody and the entire practice. Thank you!
Very Pleased
Mr. Carmody understood the urgency of my case and I was seen promptly, very pleased with that. I've never been to court before this but I felt at ease when Mr. Carmody showed up. I am incredibly satisfied, he saved my future (life) and I am ever grateful for that. He has a tremendous amount...
Very Knowledgable
I cannot say enough about the way Mr. Carmody represented me and perservered through the whole process. His methods are not only highly professional but also very detailed, precise and meant to facilitate as best as possible the clearing of charges against his clients. Mr. Carmody is thorough...
Reassuring
Vic always gives me the reassurance that I require. I'm from Alabama and Mr. Carmody is the best I've ever encountered. Thank you!
Very Satisfied
I am very satisfied with Mr. Carmody and the entire practice. Thank you!
Refer to anyone
Will refer Vic to anyone that faces a similar situation.