What is Felony DUI Mississippi?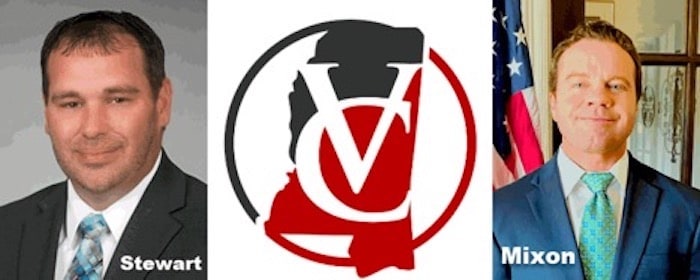 By: Kevin Stewart and Lance Mixon, Partners and Award-Winning DUI Lawyers in Mississippi
Many people charged with a DUI in MS search generic phrases like, "Are DUIs felonies?" or "How many DUIs is a felony?" In the last decade, that determination has been altered by the Mississippi Legislature toughening state laws on repeat offenders. But, a first offense DUI in Mississippi has many great options, including being able to fight the case in court.
Is a DUI a felony or misdemeanor? In the State of Mississippi, a third DUI offense can be a felony if it is a 3rd DUI within 5 years. This is called a "lookback" period, and is used in most states, but seldom for just a five-year period. Longer lookback periods create more repeat offenders being sentenced to tougher punishment.
A fourth DUI Mississippi offense now has lifetime lookback. By way of example, in Georgia, the lookback is for 10 years, and a 4th DUI within 10 years is a felony in the Peach State. Other states are more aggressive, such as Michigan. About 15 years ago, all lookback periods were abandoned.
In NC, the lookback is for 7 years for repeat offenders, but the Tar Heel State counts the seven years by measuring the date of the last conviction to the date of the new arrest. Georgia and Mississippi use dates of arrest for measuring DUIs, except that Mississippi now looks at a driver's lifetime DUI record, when a DUI fourth offense is accused.
When are DUIs Felonies in the Magnolia State?
For several decades, a 3rd DUI in MS (or subsequent DUI, e.g., 4th, 5th DUI) within 5 years has been the threshold for a felony DUI in Mississippi. See Weaver v. State, 713 So.2d 860 (Ms. Sup. Ct., 1997), where the appeals attorney for Defendant challenged to old methods of charging DUI cases with uniform citations, unsuccessfully arguing that those should not be "counted."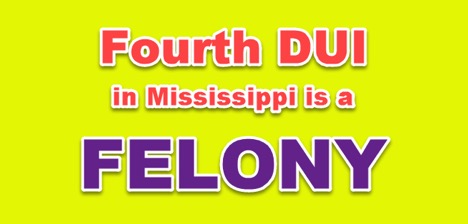 Sorting through Mississippi DUI Laws: Is a DUI a Felony?
For arrests of a 4th DUI in Mississippi lifetime offender, which are made October 1, 2016 and afterward, our state uses a driver's lifetime DUI record. This drastically increased the number of the potential drivers affected by this change in Mississippi DUI laws.
On October 1, 2016, a new amendment creating a DUI 4th offense law that does away with the 5-year lookback period. This law was enacted in the sweeping changes of the 2013 Mississippi amendments, but had a future effective date.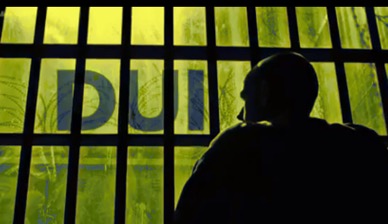 Below is the wording from the Mississippi statute of that new fourth DUI in a driver's lifetime subsection:
MSA 63-11-30. Operation under the Influence of Alcohol or other Impairing Substance
(d) Fourth and subsequent offense DUI.
(i) For any fourth or subsequent conviction of a violation of subsection (1) of this section, without regard to the time period within which the violations occurred, the person shall be guilty of a felony and fined not less than Three Thousand Dollars ($3,000.00) nor more than Ten Thousand Dollars ($10,000.00), and shall serve not less than two (2) years nor more than ten (10) years in the custody of the Department of Corrections.

(ii) The suspension of commercial driving privileges is governed by Section 63-1-216.

(iii) A person convicted of a fourth or subsequent offense is ineligible to exercise the privilege to operate a motor vehicle that is not equipped with an ignition-interlock device for ten (10) years.
In the one reported appellate case interpreting the new subsection, Ross v. State, 275 So.3d 1090 (Ms. Sup. Ct., 2019), the trial judge handed down the full, maximum 10- year state prison sentence. Several legal arguments were made by Ross's lawyers on appeal, concerning the harsh prison time, but the legal points did not sway the Mississippi Supreme Court to grant any relief.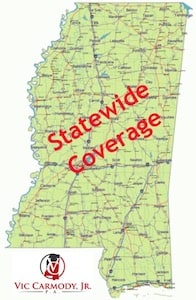 Serious Injury or Death from Alcohol Related Crashes can bring a 25 Year State Prison Sentence
If convicted of a Mississippi DUI 1st offense causing serious injury or death, while operating a motor vehicle under the influence of alcohol, drugs, or other substances, a serious felony is chargeable. Mississippi law makes it a felony to negligently cause serious bodily injury or death to any passenger, other vehicle driver or occupant or a pedestrian. Such accident cases will be accused as a serious FELONY.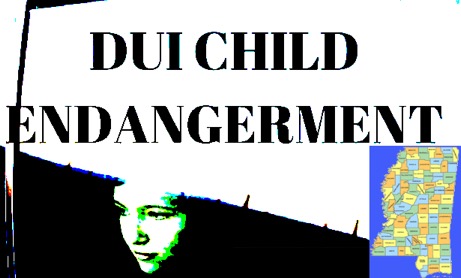 For serious injury or death of a child passenger within the DUI driver's vehicle., a draconian sentence will be imposed. Mississippi DUI law defines a child as being under the age of sixteen (16) years old. Here is what MSA 61-3-11-30 (12) (d) states:
(d) A person who commits a violation of this subsection which results in the serious injury or death of a child, without regard to whether the offense was a first, second, third or subsequent offense, shall be guilty of a felony and, upon conviction, shall be punished by a fine of not less than Ten Thousand Dollars ($10,000.00) and shall be imprisoned for not less than five (5) years nor more than twenty-five (25) years.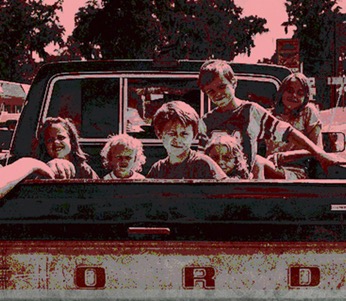 So, MS DUI laws call for the criminal penalties to include up to twenty-five years in the Mississippi State Penitentiary for certain victims. Plus, the related civil liability in DUI injury or DUI death cases is another colossal problem. DUI-related collisions can create tort liability and total costs in the millions for the DUI driver who loses in court.
Paying attorneys near me thousands of dollars to try to keep civil claims within the limits of your auto insurance policy has inestimable value. Such negotiated settlement help can protect you from having non-dischargeable debt (in any bankruptcy proceeding) as set forth in Section 523 of the US Bankruptcy Code.
When your Job, Family and Freedom could be on the Line, Call Experienced DUI Attorneys near me
Sometime, letting our prior clients speak for us is better than calling on you to decide on which law firm near me to hire. Call today to speak to the authors, or senior partner Vic Carmody, for a FREE lawyer consultation. 1-800-360-3847
Worth It
Kevin knows the laws and can help you!! Everyone thought I was screwed, but luckily, I had a knowledgeable lawyer!! Thank God!! My DUI was dismissed!! I had even done the "breath" test which made my case a little more difficult to fight!! It's worth it to have an attorney like Kevin!! I would recommend him to anyone!!
– L.W.
Knowledgeable and Competent
Mr. Mixon is kind, understanding, knowledgeable and competent. I am pleased with the service he provided and will refer others if I have the opportunity.
– D.S.