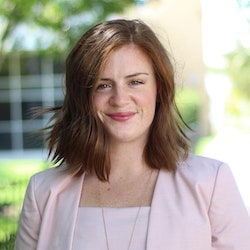 Megan Rogers-Hasie
Megan is an associate attorney at Carmody, Stewart, & Mixon practicing family law and criminal defense. She is a Kansas City, Missouri native and was raised on barbeque and live music. She attended Colorado Mesa University in Grand Junction, Colorado and graduated with a Bachelor of Arts degree in English Literature. After working as a paralegal for more than two years, Megan turned her sights toward law school.
Megan graduated Cum Laude from Mississippi College School of Law in Jackson, Mississippi. As a law student, Megan was President of the Women's Student Bar Association, a member of the Moot Court Board, and a member of the Law Review. Her article "23andPleaseDoNotDenyMe: The Insurance Coverage Backlash Consumers Suffer When Human Identity Becomes A Commodity" was selected for publication in Volume 39 of the Review. Additionally, she published a post on the Law Review Blog about Jones v. Mississippi, a Mississippi case that was argued before the United States Supreme Court on juveniles sentenced to life sentences without possibility of parole.
Under Mississippi's Limited Practice Rule, Megan was able to work as a Law Student Attorney in the Adoption and Guardian ad Litem Legal Clinics at Mississippi College School of Law. It was these experiences that gave Megan her passion for family law and children's advocacy. As a law student attorney, Megan finalized adoptions, worked with Child Protection Services, investigated cases of custody modification and child endangerment, and was the lead attorney at a trial for termination of parental rights.
In her position as associate counsel at Carmody, Stewart, & Mixon, Megan works with criminal defense clients during the pre-indictment, trial, and post-conviction stages of the criminal justice process. She is licensed in all Mississippi state courts. She draws from life experiences to provide clients with compassionate representation. As a family law and criminal defense attorney, Megan seeks to provide clients with a balance of hopeful outcomes and realistic expectations. Each case is unique and you deserve an attorney who will give you and your legal matter the attention you deserve. Megan understands that criminal matters can affect a family situation at home and that disputes between family members can easily become criminal. When you need an attorney who can skillfully address the complexities of your legal problems, contact Megan today.
Education
J.D., Mississippi College School of Law
B.A., Colorado Mesa University
Jurisdictions Admitted to Practice Mississippi

Professional & Bar Association Memberships
Mississippi State Bar