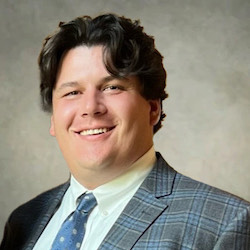 Tom Shaw
Tom is an associate attorney at Carmody, Stewart, & Mixon practicing primarily in the area of criminal defense. He is a native of Fort Walton Beach, Florida. He played football at Birmingham Southern College for a year before transferring to the University of Mississippi where he graduated with a Bachelor of Arts in Political Science.Tom resides in Jackson, Mississippi with his wife, Taylor, and his two dogs.
Tom graduated from Mississippi College School of Law in Jackson, Mississippi. As a law student, Tom was a member of the Moot Court Board which afforded him the ability to compete in competitions such as the National Trial Competition. He was also a member of the Dean's Ambassadors at the law school.
Under Mississippi's Limited Practice Rule, Tom was able to work as a Law Student Attorney in the Veteran's Clinic at Mississippi College School of Law as well as in the Hinds County District Attorney's office. These experiences allowed him to familiarize himself with the VA filing process and writing wills as well as exposing him to the other side of the aisle in criminal justice proceedings which catalyzed his passion for advocating for those accused of crimes. During this time, Tom filed and argued motions, worked with Mississippi and the United States Veterans Affairs, refined his research skills on criminal as well as civil matters such as civil asset forfeiture which oftentimes comes hand in hand with a criminal prosecution.
In his position as associate counsel at Carmody, Stewart, & Mixon, Tom works with criminal defense clients during the pre-indictment, trial, and post-conviction stages of the criminal justice process. He is licensed in all Mississippi state courts as well as the Federal Court for the Southern District of Mississippi. Each case is unique and you deserve an attorney who will give you and your legal matter the attention you deserve. Tom understands that criminal matters can affect a family situation at home and that disputes between family members can easily become criminal. When you need an attorney who can skillfully address the complexities of your legal problems, contact Tom today.